We've decided to make Deadlihood available FREE, one chapter at a time. Our hope is that you readers will get so engrossed in the mystery that you'll decide to order the Ebook to gain access to all the chapters.  Click the PDF icon on the right to download your FREE copy of Chapter 9! PLUS, you'll find a HOLIDAY SURPRISE at the end of the chapter. Scroll down if you missed earlier chapters -- they're at the bottom of the page.

We hope you enjoy the reading and that you'll decide to buy the book(s). If not, read on!

Want to get on the mailing list to be notified when the next chapter is available? Click the e-mail icon to notify the author. Feel free to also include any comments on the book that you may have.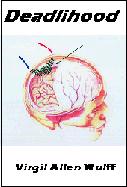 Click Here for ordering information on DEADLIHOOD in Ebook form for $10.
Author's Note:

An important aspect of my story is how it predicts and technically describes the attainment of  immortality ...

The PDF requires Acrobat Reader 4.0 or higher to read the book. Click the Acrobat icon on the left to download the latest version free.